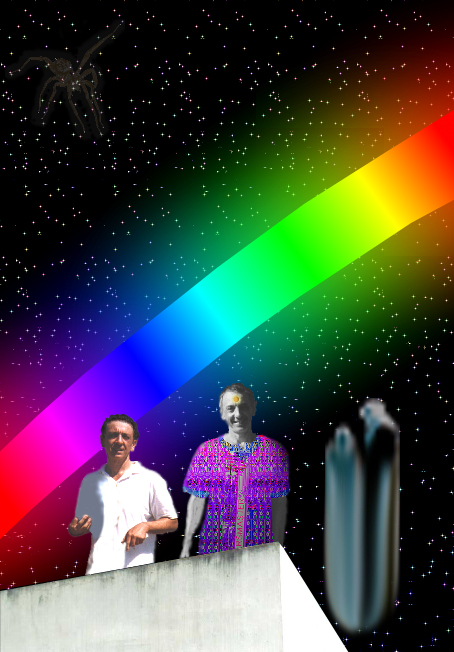 Minimum Summary of the opus GÉA
1- DIVINE LEVEL
In the highest level, Géa is an adventure of the Géa (the feminine part of God) and of Géo (God).
Don't be startled the Readers: God just appears in the last chapter: Géa is not a religious opus.
2 - LEVEL OF THE BEINGS OF LIGHT
In the plane immediately below, Géa is the adventure of a Being of Light and of other entities named "Kys Únicos das Espécies" (Only Beings of the Species).
3 - LEVEL OF THE SAPIENT BEINGS
In the level of the beings similar to man, Géa is the adventure of more than one thousand characters, with stories of several types; among them: mysticism, fiction, epopee, novel, erotism, sex, war, peace, love, vice, drama, tragedy and even literature for children, with characters of all natures, human and extraterrestrial. Géa is at the same level of the great opera of all times; among them: "Iliad", "Odissey", "Eneida", "War and Peace", "The Lord of the Rings, etc. And Géa surpasses them all. Among the stories of these characters evolve the story of Clausar: a mystic, he climbs to a higher plane and becomes a Being of Light.
4 - LEVEL OF THE SUBMETRIC BEINGS
In a plane below, there is the one of the submetric beings, where the insects, the arachnids, the scorpions and innumerable beings surprise the Reader, with tales which interlace with the stories from other planes and affect them beyond the human being can perceive. The protagonist par excellence in this plane is Tóxia, the telária of the mortal venom.
5 - LEVEL OF THE SUBATOMIC LIVING PARTICLES
In the lowest level, Géa is the adventure of the subatomic particles (they have life!). Among these particles arise the smallest particle of the Universe, which was God and perhaps will be God again (God appears only in the last chapter).
Géa


So, the opus Géa covers from the highest to the lowest level of Creation; and doesn't close that mystical and cosmogonical circle: opens and changes it in a rising spiral, giving a new opportunity, never offered before by any religion to Man and to each living being: to reach the apex of the Universe, becoming the own God.
And don't forget the Readers: Géa contains excellent dialogues.
THESE MUSICAL COMPOSITIONS WERE DEDICATED TO THE PLANES OF GÉA
Compositions by CCDB and by Sérgio Dias
TEMA DE GÉA - "Tárky fre Géa" - (Song by Sérgio Dias, Lyrics by CCDB - download free in WAV & MP3)
TEMA DOS SERES DE LUZ - "Tárky fros Gédos fre Géon" - (Lyrics and Music by CCDB - download free in WAV & MP3)
TEMA DOS SERES SAPIENTES - "Tárky fros Gédos Sapiens" - (Lyrics and Music by CCDB - download free in WAV & MP3)
TEMA DOS SERES SUBMÉTRICOS - "Tárky fros Gédos Subtrezêmbicos" - (Music by CCDB - download free in WAV & MP3)
TEMA DAS PARTÍCULAS SUBATÔMICAS VIVENTES - "Tárky fros Gédons Gédios" - (Music by CCDB - download free in WAV & MP3)